Climate Action recently spoke with Frank Campbell, Europe, Middle East and Africa (EMEA) President at Eaton – a global power management company and Gold sponsor in the upcoming 8th Sustainable Innovation Forum, about the role of the technology in the sustainability transition, the status of the energy transition and future opportunities.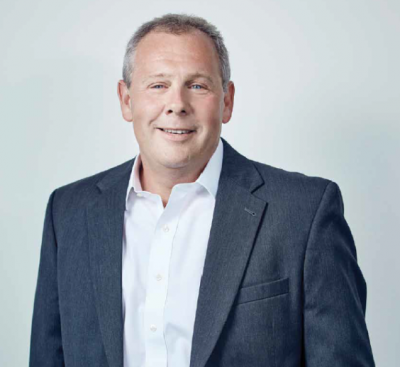 1. Could you give us some background on Eaton?
Eaton is a global power management company. Power is a fundamental part of just about everything we do. From planes to hospitals, factories, datacentres, vehicles and the electrical grid, energy management is all around us. Eaton helps customers better manage their electrical, hydraulic and mechanical power more efficiently, reliably, safely and sustainability.
As an industry leader Eaton has a key role to play in helping to inject more low carbon and renewable power sources into the energy mix and working with customers and suppliers to implement technology to become more energy-efficient, lower emissions and use less fuel. Fundamentally, we believe that we owe it to future generations to leave the planet a little 'greener'.
2. What is your background and current role?
I have been with Eaton for 33 years. I have worked in many different factories and offices mainly in the electrical space but across manufacturing, quality, sales, product management, marketing and IT. I have spent time in the US but am now based in Europe heading up the EMEA region as president for the corporate and electrical sectors. My experience has given me an in-depth knowledge of the industry.
One thing I have become particularly passionate about is wanting the electricity world to operate more efficiently, reliably, safely and sustainably. I feel strongly that Eaton's commitment to making a real difference in the world has led to its ongoing success. We have grown from just a few thousand to a 25,000 strong business in the region.
3. How does Eaton demonstrate its commitment to sustainability and environmental stewardship day to day?
This is a major focus. We do many things day to day both internally and with customers that demonstrates this commitment. For example, we measure all waste to minimise our contribution to landfill. 108 out of our 251 sites worldwide send zero waste to landfill. In Europe, we have now 62 out of 70, and we are working towards 100%. All of our European manufacturing facilities are ISO 14001 certified and for example, our 18 manufacturing sites in Germany are now ISO 50001 certified.
Our partnership with Nissan is another key cornerstone. The more we spoke with Nissan, the more we realised how we could solve some important problems together. We work alongside Nissan to make datacentres greener and are involved in an EU-funded project called Green Data Net. Our xStorage offering, which uses second-life batteries from Nissan LEAF electric cars for energy storage in buildings and homes, is another example of this.
4. How far do you think we are towards the goal of transitioning to renewable energy?
The energy transition from fossil fuels to renewables is growing faster than many had foreseen just a few years ago – primarily driven by the economics. Solar and wind are now the dominant sources of new energy capacity worldwide and we see prices continuing to fall. For example, we have seen large-scale solar tenders below $20.00 per megawatt hour in several place in the world. In the UK, offshore wind tenders are now at just over €60.00 per megawatt hour which is where onshore wind was just a few years ago. Beyond this, depending upon the market, we see that renewable power will even cost less than existing built sources – at which point things get very exciting.
I truly believe that we are reaching a tipping point where renewable energy sources will soon dominate. When this might happen, and what it might mean are of key interest to Eaton. For this reason, we have collaborated with the Renewable Energy Association and Bloomberg New Energy Finance to commission a study on this subject. We are looking forward to sharing the results at the Sustainable Innovation Forum in November.
5. What business opportunities could battery storage technology offer?
Battery storage has offered opportunities for business for nearly 100 years! It is certainly not a new technology. But what is new is the rapid drop in costs for Lithium-ion batteries driven by consumer products including mobile phones and electrical vehicles. In fact, the cost of Lithium-ion for energy storage has decreased by a whopping 90% in the past ten years. This has led to strong business cases for energy storage across many power management applications. Energy storage can save customers money, increase supply resilience and is kinder to the environment. In the USA, the market has been led by large-scale storage where all of these same value propositions extend to the grid. Eaton has contributed to several projects in this market.
6. What do you think are the next technological trends that will determine the future climate action efforts?
The biggest trend is probably the electrification of things that, until now, has been driven by fossil fuels. Demand for electric vehicles is continuing to grow alongside the electrification of rail and heating amongst others. We're also seeing the continued progress for other non-carbon generating technologies such as heat pumps, tidal and wave power and even nuclear fusion. These could all be key parts of our energy mix in the future. This has also given rise to new ways to manage this mix to make sure these, more renewable, sources can always be dispatched. This includes new longer term storage solutions such as flow batteries and hydrogen products made from electrolysed water which can enable power even on dark or calm days. These technologies will become part of the real world of energy.
7. Eaton Industries is sponsoring this year's Sustainable Innovation Forum. What was the motivation behind this decision?
Even since its inception more than 100 years ago, Eaton's products and solutions have helped people to use less energy, reduce emissions and work more safely. Our commitment to impacting the environment positively while helping to solve the world's most pressing power management challenges is embedded in our DNA. We believe in the power of a collaborative approach, sharing our experience with the rest of the world, leveraging relationships with international and local organisations and associations, and working with governments and businesses. Together, we can foster environmental improvement, in particular the transition to a low-carbon and resource efficient economy. This is why we are sponsoring the Sustainable Innovation Forum alongside COP23. We are very much looking forward to exchanging with other attendees about how we can continue to drive sustainability and combat climate change, together.
Eaton is Gold sponsor in the upcoming 8th Sustainable Innovation Forum taking place alongside COP23, 13-14 November in Bonn, Germany. To learn more about the agenda, the panels, the speakers and how to register visit the event's official website http://www.cop-23.org/.